MEPA Production of Grease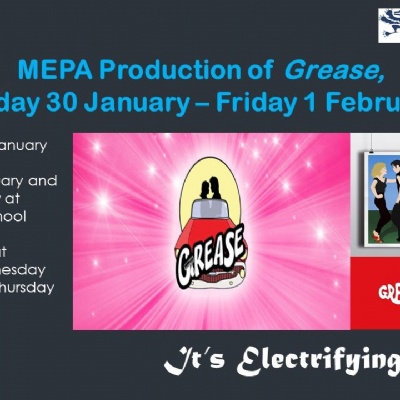 MEPA Production of Grease - Wednesday 30 January – Friday 1 February 2019
We would like to invite you to our whole school production of Grease on Wednesday 30 January at 5.30pm and Thursday 31 January and Friday 1 February at 7.00pm in the school Drama Studio. Doors will open at 5.00pm on Wednesday and 6.30pm on Thursday and Friday.
It's 1959, and Rydell High School's senior class are starting a new school year. At the heart of the story is the romance between the leader of the 'T-Birds', Danny Zuko and the sweet new girl in town, Sandy Dumbrowski. They had a secret romance in summer, but now back in the context of school, peer-pressure and cliques make their love a bit more complicated. Can Danny maintain his cool dude status and still get make demure Sandy his girl? The whole gang sings and dances around Danny and Sandy's romance, through such hit songs as "Greased Lightnin'", "We Go Together", and "You're the One That I Want".
Tickets are £8.00 for adults and £5.00 for concessions and are available by completing the order form below. Tickets will be sold at break times in the drama studio (D1). Tickets will be made available to cast, band and crew on Thursday 10 January before going on sale to the rest of the school on Wednesday 16 January.